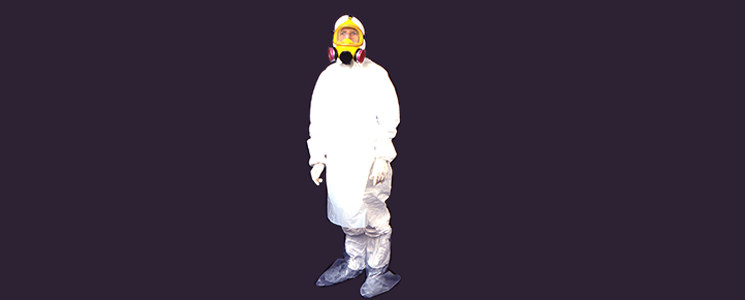 Disposable protective clothing is the right choice for working in a sterile or an extremely dirty environment. Some work environments require an added layer of safety and for that, it's essential to wear personal protective equipment (PPE).
Mostly the required PPE needs to be tough and reusable but in other environments, the PPE needs to be changed after every single use because it gets so dirty. In some cases, fresh, clean protective clothing is required each and every time to work in a sterile environment - like labs, food industry, etc.
Disposable protective clothing is a single use PPE made to use by a single worker. These are not meant to be shared or washed for multiple uses. Washing disposable protective clothing will render its effectiveness.
Six Essential Disposable Protective Clothing Options to Consider
 The six essential disposable clothing options that you can consider stocking are –
Disposable Coveralls – Disposable coveralls are required in various construction works and especially in asbestos removal work the use of coveralls is necessary to protect the worker's whole body from the harmful effects of the asbestos and after usage, these coveralls can be properly disposed of.
Aprons – Disposable aprons are used in food industries, pharmaceutical and healthcare professional use disposable aprons. These works involve working in a sterile environment so disposable aprons are best suited for this kind of requirement. Disposable aprons are also required in the work related to construction.
Hair cover – Hair salons, food, pharmaceutical, healthcare, construction and a lot of work environments are fit for the use of disposable hair cover by the workers.
Disposable protective face masks – A whole range of disposable protective mask,  face masks are available that can be used depending upon the level of the hazard present in the environment.
Gloves – Beauticians, technicians, painters, construction workers, healthcare, pharmaceutical, surgeons and many more workplaces require the use of disposable hand gloves to safeguard the hands of workers from the harmful effect of the chemicals or maintain the sanitation.
Boot and shoe covers – Disposable boot and shoe covers are used to safeguard from various hazards of work and protect against dirt and certain dry particulates. These are very useful in working in damp areas or in sterile lab conditions.
Things to Consider Before Selecting Disposable PPE
The quality standards of disposable PPE differ from that of its reusable counterparts. It's important to determine the quality of PPE that's required. These facts should be checked before buying a PPE as these will help you in deciding the right PPE for yourself –
The type of work that will be done while using this PPE.
Hazards present at the workplace.
The areas of the body that requires protection.
The strength level of the material necessary to meet the safety standards.
Check if the workplace is hygiene-critical.
The clothing will be or not in contact with body fluids.
Are these required to be flame-resistant or chemical-resistant?
Does the material need to be heat or cold-resistant?
After you understand your requirements properly it will be easier for you to determine which disposable PPE will function better for you.
Single-use PPE or disposable PPE is not suitable for every task but here are few work environments that require the usage of disposable PPE.
Food, medical and lab atmospheres require the use of fresh PPE that's free from any kind of contamination.
At workplaces where the PPE gets extremely dirty and these soiled PPE are not fit for reuse then it will be better to use disposable clothing options for the workers.
Disposable PPE is also a good choice for the occasional visitors as laundering reusable PPE would be costly.
Some industries like – motor repair, asbestos removal bags, pharmaceutical, healthcare, and food preparation require the use of disposable PPE.
Conclusion
Employees that require disposable PPE need to undergo training to understand when they will need to wear it and what type of PPE is required.
Disposable PPE is not fit for every environment. Be aware of the limitations of the disposable PPE and properly dispose of after using it.