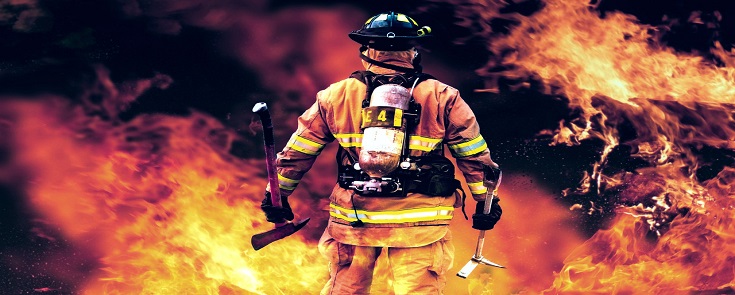 Personal Protective Equipment (PPE) is specially designed to protect the wearer's body from hazards. The workers who work in the environment which can cause hazards to their body mostly utilize PPEs. Equipment like safety goggles, safety gloves, helmets, safety shoes, high visibility jackets, and so on are the most commonly used PPEs among workers all over the world.
Here in this article, we are going to discuss the PPE safety equipment and the best which can be used by the firefighters during the wildfire smoke.
List of Safety Equipments Needed for Wildfire Smoke
1. Safety Eye Goggles
Wearing safety goggles is so important for firefighters during the wildfire smoke. During a wildfire break the majority of the injuries happen because of the flying and falling of tiny objects that strike on eyes. Firefighters would be aware of the fact and would carry safety equipment like face shields, safety spectacles, safety goggles, and so on.
Safety Spectacles & Safety Goggles act as primary safety equipment. And the face shield acts as secondary protective equipment.
Wearing 'Goggles Indirect Vent' can be most helpful for wearers during the toughest environments like wildfire smoke. It is CE-certified safety equipment made of a flexible PVC frame and provides comfort to the wearers for a long period.
2. Protective Face Mask
Good respiration is essential for the firefighters during the wildfire smoke, for that wearing a good protective mask is necessary. In today's market, you can find a lot of dust masks covering the partial or full face. Wearing a face mask protects the wearer from inhaling harmful tiny dust particles which may be toxic.
On analyzing today's market, we found JSP Force 8 Pressure to check Half Mask with P3 Cartridge seems to be far better. The JSP face mask pressure of eight 1/2 of the mask comes with a press to test the P3 cartridge. The press-to-test layout enables us to make certain that JSP FFP3 masks are geared up efficiently and present a robust and steady seal.
3. Safety Hand Gloves
To protect hands during the wildfire incident, wearing leather safety gloves are essential. A pair of leather hand gloves will protect a fire fighter's hands and fingers from getting an injury and also prevents exposure to harmful gases.
Apart from that, safety leather gloves are the first choice for dozens of industries including mining, engineering, construction, welding, and agriculture.
Though you can find a lot of leather gloves from the market, we strongly suggest wearing protective coveralls along with a pair of leather gloves to protect yourself from hazardous wildfire smoke.
We suggest Dragon Fire Alpha X NFPA Firefighting Glove Black/Tan that has synthetic leather palm and enhanced grim. Moreover, the presence of spandex fabric gives comfort and breathability to the wearer's skin.
4. Safety Shoes
Walking in the wildfire environment is not an easy task even for the trained firefighters. Feet must need solid protection, for that wearing safety shoes are a must for firefighters. Firefighters often work for a long period, so their safety boots need to provide real comfort, support, and stability.
We suggest Bates Men's Ultra-Lites Side-Zip Firefighter Boots as the best safety boot that a firefighter can wear during the wildfire smoke. This boot comes with 8 inches tactical sport side-zips and comes with 100% leather along with high-top work shoe features.
5. Safety Ear Plugs
Carrying safety disposable earplugs or hearing protection gears along is essential for firefighters to safeguard their ears from poisonous gas and to get rid of the loud noise scene from affecting their hearing ability.
Often firefighters experience threat due to the effect of the scenic noise from the wildfire incident, to avoid that wearing quality earplug or ear defenders will be helpful.
We strongly suggest Howard Leight by Honeywell Impact Sport Sound Amplification Electronic Shooting Earmuff that comes with built-in directional microphones and provides better listening along by enhancing communication.
6. Safety Jackets
It's not easy for firefighters to find a highly durable firefighter jacket. Jackets need to be more flexible and should adjust throughout the fluctuating temperatures so that the emergency responder can be comfortable by wearing them year-round.
We suggest the Lion Action Line Jacket which is well-known as the multi-season station jacket that comes with the bi-swing back feature along with a zip-in liner that allows firefighters to wear all four seasons.
Conclusion
Well, the above-listed PPE safety equipment that are essential for an emergency responder like firefighters. At the same time, proper maintenance is mandatory so that all those safety gears will be ready to be worn during an emergency situation.
Also, firefighters must make sure they are wearing the right and perfectly fitted PPE safety equipment so that they can experience real comfort while working in a rescuing environment.