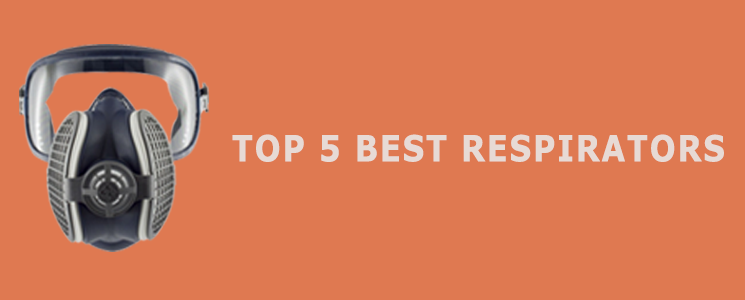 Selecting the right respirator is extremely important and you should select the one that is ideal for the environment you're working in. And for doing this, all you have to do is a bit of research on these masks and the level of protection they can offer. Most of these masks can be used with a wide range of filters.
Apart from this take into account the requirements of your environment. A complete assessment of the risk imposed by the environment and check if that can be reverted. If risk can't be removed from the environment then the use of personal protective equipment is advised. Select the best dust mask keeping the protection in mind.
If you're looking for the right reusable respirator and not even sure which one will make a perfect buy, you're definitely not alone. To provide some help, here's a list of some best respirators which obviously are reusable and they will provide maximum protection without failing.
Top 5 Best Respirators for Reusable Protection
Here's some useful information about the commonly used reusable masks. Make sure you know the pre-requisites of using them and do comparisons based on their effectiveness before making the purchase. Let's get started.
1. 3M Reusable Full Face & Half Face Mask
These masks can be ideally used while working for construction and paint spraying. These come with a twin filter system that's very comfortable and allows easy breathing with low resistance. It's compatible with a whole range of different filters that provide full protection.
3M respirator comes in an easy-to-fit facepiece made up of hypo-allergic material. A complete range of 3M masks is available and most of these are maintenance free.
Some even have built-in filters making them easy-to-use and no need of changing the filter. These masks offer P2 and P3 level protection to the wearer.
Whereas the 3M full face masks offer a wide field of vision. It comes with impact resistant lens and is extremely light in weight.
 2. JSP Mask
The JSP half mask comes with a press to check P3 cartridge this enables you to check if the facepiece is fitted correctly. This ensures a strong seal. This mask is highly effective when used in the asbestos environment.
This mask shields you from the damaging effects of particulates, vapours, and various gases. It comes with reflective strips for improved visibility in areas without proper light.
Force 10 is a full-face mask with twin cartridge and heavy-duty filter connections. The lens of this mask is anti-mist and has an anti-scratch coating and gives impact protection. These full-face masks are comfortable to wear as they're padded and mould easily to the shape of your face. It comes with an exhalation valve to reduce moisture build-up and heat inside the mask.
 3.  Moldex Half Masks & Full-Face Masks
These reusable masks come with a P3 filter. The Moldex half masks are lightweight with a soft TPE material body and a wide seal. The Moldex FFP3 half masks have an easy-lock filter system and can be used effectively for getting protection when handling harmful substances like -asbestos.
The full-face masks available in this range are quite effective against hazardous materials like - fumes (both organic and inorganic) and particulate materials. This is a super-light in weight and good for prolonged use. It comes with P3 protective filters.
4. Portwest Full Face Respirators & Half Masks
The Portwest Full Face respirators is adjustable so, one size fits all. Though the fit is not compromised and this mask offers a tight seal on the wearer's face. Filters for these masks are sold separately. These masks are anti-scratch, anti-acid, and anti-fog.
Portwest half masks are flexible and durable. These are made from thermoplastic rubber and are equipped to provide high-level of hazard protection. These are adjustable and designed to one size fits all.
5. Elipse Masks
These are uniquely designed mask and offers protection against dust and eye impacts. This mask is quite innovative and comes with two-in-one design to provide comfort that is hard to match by wearing two separate protective items.
This mask is lightweight, adjustable and compact whilst offering good filtration. Almost 99.95% of filtration is achieved by this mask. This is anti-mist and anti-fog and offers low breathing resistance.
Conclusion        
A complete range of these five reusable masks is available that's compatible with a wide range of suitable filters. Though the options available in the full-face dust mask is less. Apart from these reusable masks, disposable masks are also readily available.
Selecting the right mask based on your requirement will ensure better protection in any hazardous environment. These respirators mainly function as a barrier that blocks hazardous substances from entering our bodies through respiration.