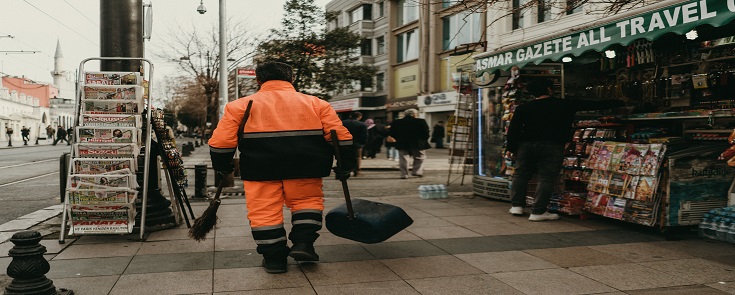 The job of a waste picker and a garbage collector is very tough. The waste pickers always stick their hands into plenty of trash, garbage, and rubbish daily to make the best on the pecking order, which rules the waste management industry that includes recycling, reuse, and reduction. Workers in the waste and recycling industry are facing several work-related health hazards and risks. Some of the most considerable risks are scratches, tears, cuts, and punctures by using specific knives as well as other tools to sort out the trash.
Even these workers are also likely to run into the prickly edges of hypodermic needles and broken materials, which have not been disposed of correctly. Along with their earlier safety protection, the covid-19 pandemic has prompted the work-related safety and health administration to offer the proper recommendations and guidance for solid waste and wastewater management workers at improved risk of job-related exposure to SARS-CoV-2.
Now, they consider workers who handle the collecting garbage and picking waste will provide safety clothing during their occasional time. One type of mask recommended for this worker is a 3m 6000 mask, which is a basic facepiece of maintenance-free and reusable respirator from 3m. As with any other 3m filter masks, it needs no additional parts to link the cartridges or filters directly to a facepiece.
This specific 6000 mask from 3m is offering efficient respiratory protection for usage in places, where people will be more exposed to non-volatile liquid particles and dust particles as well. Even during this pandemic, the waste workers are safeguarding our communities. Even though waste management is an invaluable public health service, particularly during this existing covid-19. During this time, this full face mask reusable respirator provides ease of use and lightweight comfort.
Class 2 Safety Clothing for Public Service Workers
To protect them, now, the class 2 safety clothing is provided for the waste pickers and garbage collectors. The authoritative government is giving high visibility and reflective clothing to them. Many people think of this clothing in terms of weighty safety vests viewed on several workers, but vests do not control this class 2 safety clothing. Along with contented reflective sweatshirts, there are less clear insightful clothing solutions offered.
In recent days, sanitation workers are demanding PPE kits. When the garbage collectors come in straight contact with the multiple types of waste collected from many homes in the city, the union has demanded that the government must make sure to provide the asbestos PPE safety suits and kits to the entire sanitation workers and garbage collectors as well. Still, there are so many garbage workers who cannot even afford to buy masks, gloves, and other protective gear on a routine basis.
This personal protective equipment is offered to use while working with asbestos. It is any kind of equipment or clothing that offers utmost protection to the wearer from the potential hazards or risks. If asbestos may be present, the PPE should include the following:
Footwear- suitable for the work being undertaken
Overalls that is resistant to asbestos dust- To prevent the risk of carrying asbestos fibers away from
Respiratory protective equipment- To prevent inhaling asbestos fibers
However, the washing should be only done in laundries, specifically set up for handling asbestos, i.e. contaminated clothing. It may not be done at a public Laundromat or home.
Garbage Man and Waste Management Uniforms
At present, many of the manufacturers are providing garbage man and waste management uniform shirts. So, you can select from the best selection of shirts for the different categories of workers like staff, drivers, sanitation workers, waste pickers and garbage collectors, and so on. In addition, they provide protection accessories also that include goggles, hazmat or chemical protective apparel, disposable protective clothing, suits, and other chemical resistant gear, and so on.
The waste pickers are in a fragile situation with both their livelihoods and health threatened. Even their work is banned in a few cases to stop them from earning a living wage and also serve their communities. So, some communities have started giving big relief. Now, the municipality has banned waste picking and it is giving food and housing to the waste pickers who would otherwise go starving and homeless.
Conclusion
When it comes to considering the environmental health and safety of workers, the dust mask is introduced. This is an approved disposable filtering facepiece. It can be worn for comfort against non-toxic dust during activities such as sweeping, mowing and dusting, and so on. However, these masks are not respirators and do not even provide the utmost protection against dangerous vapors, gases, or dust. Also, this mask is best suited for garbage collectors and waste pickers too.