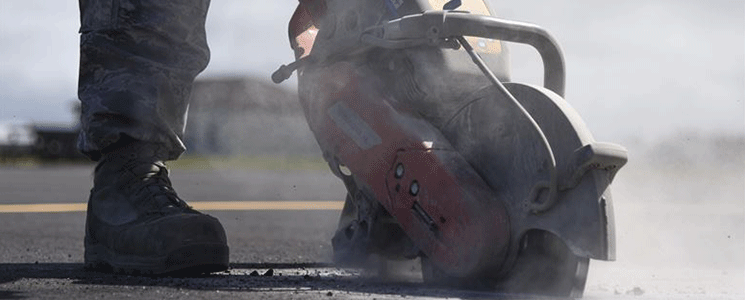 Stones, sands, and clays which contain considerable amounts of crystalline silica are used to make tiles and concrete. The dust particles which are produced while cutting these materials are hazardous to health and can even turn fatal. Therefore, it is important to use methods that can control dust in such environments and wear protective equipment such as a dust mask with filter.
What is RCS?
Respirable crystalline silica (RCS) is a term referring to the fine dust particles which are produced while cutting concrete slabs, kerb stones, and other products made of stone or concrete. RCS particles which are so tiny that they might not be visible under normal lighting can penetrate human lungs. According to research, exposure to silica may be the second most common cause of occupational lung cancer after asbestos exposure.
The health effects of exposure to RCS include
Lung Cancer
Silicosis
Tuberculosis
Chronic Obstructive Pulmonary Disease (COPD)
Asthma
To avoid the risk of chronic pulmonary and cardiovascular diseases, exposure must be kept below the RCS airborne workplace exposure limit (WEL) of 0.1 mg/m3 over an 8-hour Time Weighted Average (TWA).
Dust Control Methods
According to The Control of Substances Hazardous to Health Regulations 2002, effective and reliable control options must be used to control the emission and spread of substances including RCS. If the exposure cannot be controlled, suitable respiratory protective equipment (RPE) will need to be used.  Face fit testing kit must also be used on individual employees to make sure the protection is not affected.
Some of the dust control methods used are
Studies have shown that dry cutting with saws produces a high amount of fine dust particles which can be over the permissible limit.  Therefore, experts recommend the use of wet methods instead to control the dust and workers may have to wear waterproof clothing to avoid getting wet. The common wet methods are
Water is supplied through a hose from the mains and is sprayed on the rotating cutting disk. Jets or spray heads along with valves can help control the water flow.
Due to the direct connection to the water mains, there is no need to refill spray systems or pressurise water. Cleaning and maintaining the water jets regularly is important to make sure the dust suppression is not compromised.
Pressurised Bottle or Canister
This is a portable method and is ideal for places where a connection to water mains is impossible. A polypropylene bottle with around 8-litre capacity is filled with water and attached to the cutting saw through a thin tube. Water is sprayed on to the saw by pressurising the bottle by hand.
It is important to maintain an optimal flow rate so that there is adequate pressure for dust control. A low flow rate can reduce the dust control performance while a high flow rate may require quicker refilling of the bottle.
Local Exhaust Ventilation (LEV)
In the LEV method, the guard of the cutting saw is connected to an industrial vacuum cleaner which sucks in most of the dust particles.  Vacuum cleaners must be cleaned regularly, and filters must be used to ensure the collected dust particles do not get redistributed from the cleaners.
Diamond blades are preferred for LEV method. LEV wheels are generally smaller in size and workers need to be educated about how to handle the saw to avoid risk from flying debris or hand-arm vibration.
The choice of blades can determine the levels of dust particles produced. Blades with diamond tips can cut through concrete slabs faster than abrasive wheels. Diamond blades are also sturdier and prone to less wear when compared to abrasive wheels. Spraying water while cutting with diamond-tip blades can not only control the dust but also prolong the life of the blade.
Personal Protective Equipment (PPE)
After all possible measures have been taken, if there are still risks of exposure, then the employee must be provided with necessary PPE such as protective clothing, goggles, and face masks. Respiratory Protective Equipment (RPE) with a minimum protection factor of 20 such as FFP3 dust masks with filter must be used.
Employees must be aware of where to find PPE and should be trained on how to wear them properly. In case the employee wears glasses, then appropriate protective gear that can accommodate the glasses should be provided.
Since silica present in concrete can cause discomfort in lungs, breathlessness, infections, and other chronic illnesses, it is important to employ methods to control the amount of dust produced while cutting concrete. Using modern cutting saws and other tools that have water spray systems and wearing PPE when required can reduce the risks of silica exposure.