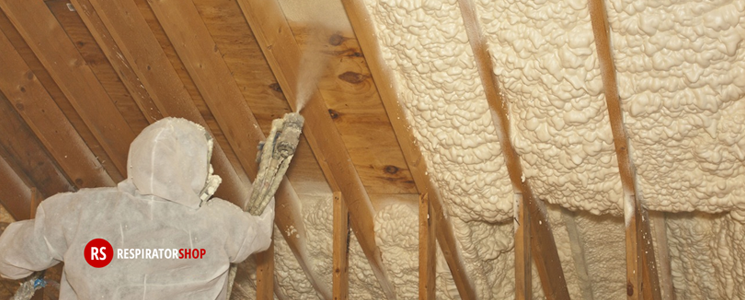 Loft insulation imposes safety risks if the materials used are not handled properly. There are different ways to do loft insulation and each of these ways has pros and cons that differ in installation method, insulation power, price, and durability. To make a final choice one should consider all these factors.
Loft insulation prevents the loss of heating from the roof and is very useful in winters. As it helps prevent the loss of heat occurring through the roof but the installation of loft requires adequate safety measures to be taken or else it can cause harm.
The risk imposed by loft insulation, especially if you are doing fiberglass insulation, is irritation in the skin and eyes. Fiberglass particles, if inhaled, can cause lung problems and in extreme case can result in cancer. Necessary health and safety measures should be taken to safeguard you from any harm during loft insulation.
Protective Clothing Required for Loft Insulation Work
As mentioned above the insulation procedure can cause some serious damage to your health, if these are conducted without any use of the protective wear. A wide range of protective wear is available that can effectively provide the required safety. The most important ones to use are protective coveralls and disposable masks.
Full Face Masks
Disposable masks provide low breathing resistance and at the same gives effective filter performance. A full face mask will come with a full range of gas and particulate filters. The use of full-face masks ensures that the wearer's face is completely protected from the damaging effects of the fiberglass particles.
Disposable Coveralls
The work of loft insulation involves proper handling of the insulation material and if the insulation material happens to be fiberglass than the risks of getting minor cuts with skin and eye irritation is always there.
Protective clothing like protective coveralls provide total safety from these risks and protect the wearer's skin. Dry particle suit protective clothing protects against hazardous particles and is resistant to penetration by airborne solid particles. These protective coveralls are very efficient in providing protection against dry particles whilst being comfortable to wear.
A wide range of protective coveralls is available that are suitable for a wide range of environments and can be selected on the basis of the risk present in the environment.
Types of Roof and Loft Insulation
Much of the heat escapes from the roof and an insulation of 270 mm thickness is recommended to control this heat loss. Some common types of loft insulation are-
Matting insulation is also known as blanket loft insulation is the most commonly used insulation.
Glass wool is considered as the most cost-effective blanket insulation.
Rock mineral wool insulation is both heat and fire resistant.
Sprayed foam insulation is a common insulation method and expand to become solid as the mixture cures. Rigid foam insulation provides support in lofts
Best Suited Disposable Mask for Loft Insulation
Many options are available in disposable dust masks that can be a good fit for the loft insulation. To mention one, 3M Aura 9332+ FFP3 valved particulate respirator is comfortable to wear without compromising the security. Aura 9300+ effectively provides protection with the dust particles and have 5 years of shelf life.
These disposable masks offer a P3 level of protection and come with low breathing resistance technology. Its design makes it easy to fit on a wide range of face shapes and sizes and even facilitates the facial movements.
Risks in Fiberglass Loft Insulation Process
Fiberglass commonly known as glass wool is a man-made fiber made by pulling strands of glass into thin fibers. Usually, fiberglass insulation is not considered as dangerous but it's irritable to skin and can cause harm to the respiratory system.
These fibers have sharp ends that can cause irritation and even minor cuts. Though causing a temporary effect but an uncomfortable one. The tiny fibers and particles of fiberglass are released in the air that can be inhaled accidentally and is capable of causing irritation.
Conclusion
Any insulation procedure requires appropriate safety measures to make sure that no-one gets hurt. Long back asbestos was also used as an insulation material in homes and offices. Nowadays it's not used for doing insulation as it's a known fact that asbestos is a hazardous material and extremely dangerous.
But in old homes where asbestos was used and any repair or demolition of that structure is required, it's important to ensure that everything is conducted with the use of personal protective equipment designed for working in such an environment. Asbestos bags should be used to safely discard the waste materials.